Humanity is the Key 2018. Designed and Painted by C. Gazaleh with assistance from Eli Lippert. The mural is roughly 31ft. x 100ft. Acrylic paint.
Amal holding the key of return, and an Yaffa orange.
Full mural "Humanity is the key" located at 25 Elgin Park San Francisico, Ca.
Ahmad climbing over the Apartheid wall reaching for the Key of return.
Leila also climbing over the wall in resistance with her brother Ahmad.
Multi colored medina, along with quote "Humanism is the only Resistance" Edward Said.
Thaer giving a victory sign as he topples the wall in resistance.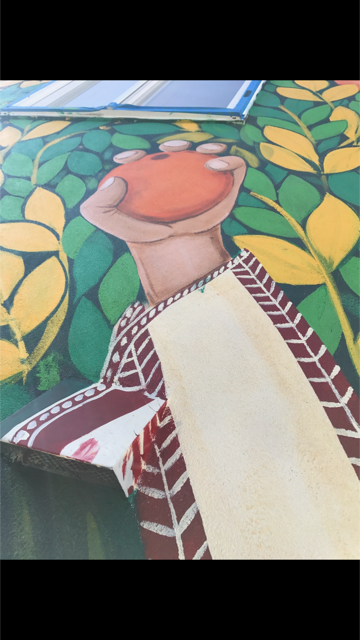 Yaffa orange clenched in Amals hand like a rock.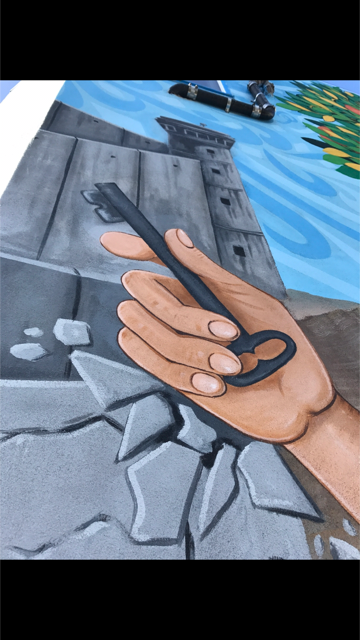 The key of return in the other hand, as its being handed to the youth, Amals hand breaks through the wall with her hand.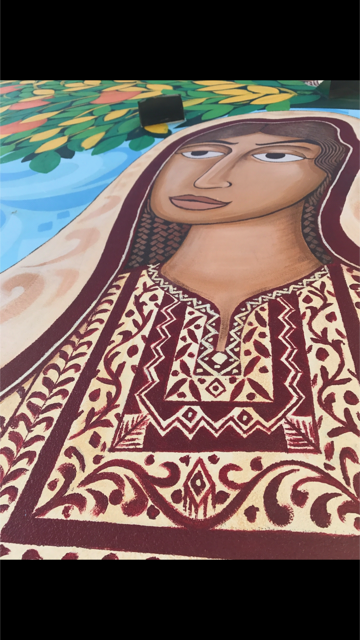 Part of Amals Tateez (Palestinian embroidery). The design is not from a specific region but inspired by multiple areas in Palestine, though the colors in her dress resemble the Ramallah region.
Map of Palestine and its many districts, many cities, towns, and villages are not labeled.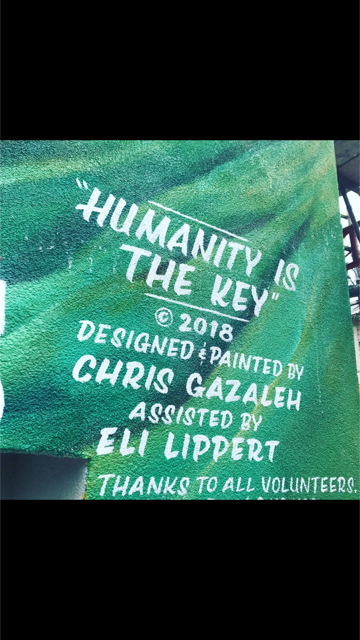 "You can't find the sun in a locked room". Mahmoud Darwish quote.
Sabr (cactus) a symbol of resilience for Palestinians. These Cactus were Painted by Suhad Khatib.
Abou Falah (Father of the farmer) gazing at the world while we awaits his peoples return.
Oakland Palestine Solidarity Mural. 2014
15ft x 22ft. Acrylic and spray paint. Located on 26th st. between Telegraph ave. and Broadway street. in Oakland, CA.
Women in the Sun. 2018 60in. x 72in Acrylic.
Commissioned by Reem Assil for Dyafa, Oakland, CA.
Oud under the moon. 2018 60in. x 72in. Acrylic.
Commissioned by Reem Assil for Dyafa, Oakland, CA.
Full view of Oakland Palestine Solidarity Mural.
Names of donors painted on Pillar at Reems Bakery in Oakland California 2017.
Collaboration with Eli Lippert (cali lily) for Grand Coffee SF Mission district.
Continuation of collaboration C.Gazaleh painted the calligraphy, Nelson Mandela done by Eli Lippert.
Old Jerusalem 2018.
Located at restaurant Old Jerusalem on Mission street between 26th and 25th streets in San Francisco. Spray Paint.
Old Mission. 2012
This was a mural commissioned by Nael from Hot Press Panini's on 26th and Mission st. Piece no longer there.
Mission Soccer Park Tree 2013
This was a tree painted in collaboration with Precita eyes Muralists. Done with spray paint.
Abdel Qadir-Zapata 2013
Commissioned by Sharif Silmi located in Tech Mission. No longer up, covered up. Done with India ink.
Abstract calligraphy. 2016
Spray paint. No longer on wall, painted in Wallah's smoke shop SF.
Abstract geometry. 2014
Painted with spray paint using tape to create the shapes. No longer present.
Cloud 9 room located in Atoms Family, near Crocker Amazon in SF, Mission street and pope.
Young Elders mural. 2015 Collaboration with Carla Wojczuk and Lee Reyes. Painted in Teach America SF near 5th and Howard st.
Continuation of Young Elders.
Palestinian Woman 2017.
Painted inside Old Jerusalem SF. Acrylic